Discography
_______________________

Jaded Heart - Guilty By Design 2016
Year: 2016
Style: Hard Rock
Country: Germany
Format: Flac+Cue+Log+Covers
Size: 514mb
Tracklist:
01. No Reason
02. Godforsaken
03. Seven Gates Of Hell
04. Remembering
05. Rescue Me
06. Salvation
07. No Waiting For Tomorrow
08. Watching You Die
09. So Help Me God
10. Bullying Me
11. This Is The End
12. Torn And Scarred
13. My Farewell (Bonus Track)
14. My Own Way Down (Bonus Track)

Johan Fahlberg - vocals
Peter Ostros - guitar
Masahiro Eto - guitar
Michael Muller - bass
Bodo Stricker - drums

Доступно только для пользователей
Jaded Heart - Perfect Insanity

Year:2009
Style:Hard Heavy Metal
Country:Germany
Цитата
Новейшая работа коллектива JADED HEART "Perfect Insanity" (2009) с истинно немецкой
педантичностью следует намеченным генеральным курсом предыдущего альбома, что красноречиво
доказывает и артворк - череп с "Sinister Mind", изображенный в лучших традициях оформления
обложек MOTORHEAD, воспламенился. Это говорит о дальнейшем утяжелении саунда группы. Кстати,
нелишне заметить, что в записи пластинки гостевое участие приняли Винни Мур (UFO),
Эрик Мартенсон (ECLIPSE) и Понтус Норгрен (HAMMERFALL, ex-THE POODLES, TALISMAN, GREAT KING RAT).

Пресс-релиз Irond Ltd
Tracklist:
01. Intro
02. Love Is A Killer
03. Fly Away
04. Blood Stained Lies
05. Tonight
06. Freedom Call
07. One Life - One Death
08. Rising
09. Hell Just Arrived
10. Psycho Kiss
11. Come To The Feast
12. Exterminated
+Bonus Video
Johan Fahlberg - vocals
Michael Muller - bass
Alex Kruse - drums
Peter Ostros - guitars
Henning Wanner - keys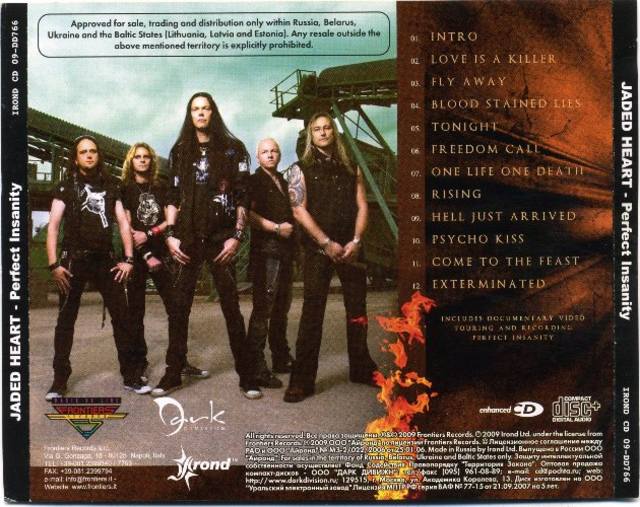 Jaded Heart - Common Destiny
Год:2012
Tracklist:
1.With You
2.Saints Denied
3.Into Tears
4.Buried Alive
5.I Believe
6.Run And Hide
7.Are We Mental
8.My Destiny
9.No More Lies
10.Life Is Beautiful
11.Higher
12.Fire And Flames
13.Your Soul To Keep (Bonus Track for Japan)
Bonus Video - "With You"
Total Playing Time 61:13
Johan Fahlberg - Vocals
Micheal Mueller - Bass
Peter Oestros - Guitars
Henning Wanner – Guitars, Keyboards
Axel Kruse - Drums
Common Destiny — Jaded Heart на Яндекс.Музыке
Jaded Heart - Inside Out 1994
Format: Flac+Cue+Log+Covers
Size: 417mb
Tracklist:
01. Inside Out
02. Mama
03. How Many Tears
04. Excuse
05. Hold On
06. Hard to Stay Alive
07. So Damn Easy
08. Listen
09. Won't Be Losin'
10. Burning For Love
11. Surrender
12. Take Me Back
13. Missing You
Michael Bormann - lead and backing vocals, guitars
Dirk Bormann - guitars, backing vocals
Michael Muller - bass, backing vocals
Axel Kruse - drums
Stefan Braun - additional keyboards
Доступно только для пользователей
Jaded Heart - Slaves And Masters 1996
Format: Flac+Cue+Log+Covers
Size: 441mb
Tracklist:
01. No Hesitation
02. Dangerous
03. Stop The Rainy Days
04. Ain't No Love
05. Help
06. Can't Wait For Love
07. Another Wasted Day
08. Hold On The Line
09. The Dream Is Over
10. I'm Still Holdin' On
11. Lust
12. Without No Warning
13. You Showed Me Heaven
14. In The Nite (bonus track)
Michael Bormann - lead vocals
Michael Muller - bass
Axel Kruse - drums
Chris Ivo - keyboards
Alex Beyrodt - guitars
Доступно только для пользователей
Jaded Heart - Mystery Eyes 1997
Format: Flac+Cue+Log+Covers
Size: 505mb
Tracklist:
01. Heaven Is Falling
02. Stop Me From Falling
03. Give It All The Best
04. Whisper
05. She's Not You
06. Mstery Eyes
07. Walk On A Wire
08. Can't Stand The Heartache
09. Where Did Our Love Go
10. No Friend Of Mine
11. What Is Love
12. Let It Go (Bonus Tracks)
13. Tears Ain't Gonna Lie (Bonus Tracks)
Michael Bormann - vocals, guitars
Michael Muller - bass
Chris Ivo - keyboards
Axel Kruse - drums
Доступно только для пользователей
Jaded Heart - Fight The System
Год:2014
Tracklist
1.Schizophrenic
2.Control (feat. Rick Altzi)
3.Not In A Million Years
4.I Lost My Faith
5.Nightmare's Over
6.Never Free
7.Till Death Do Us Part
8.Terror In Me
9.Haunted
10.Crying
11.In The Shadows
Доступно только для пользователей