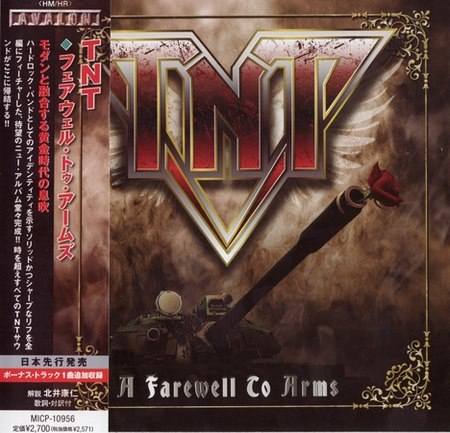 TNT - A Farewell To Arms
Год: 2010 (Japanese Edition)
Tracklist
01. Engine (04:37)
02. Refugee (04:18)
03. Ship In The Night (04:00)
04. Take It Like A Man - Woman! (03:01)
05. Come (03:41)
06. Barracuda (02:39)
07. A Signature On A Demon's Self-Portrait (00:57)
08. Don't Misunderstand Me (03:28)
09. A Farewell To Arms (02:39)
10. Someone Else (04:21)
11. God Natt, Marie (04:28)
12. Not Only Lonely (Bonus track for Japan) (03:38)
Band
Tony Mills – vocals
Ronni Le Tekrø – guitars
Victor Borge – bass guitar
Diesel Dahl – drums and percussion
Additional personnel
Dag Stokke – keyboards on "God Natt, Marie"
Bård Svendsen – backing vocals, organ on "Barracuda"
A Farewell to Arms is the twelfth studio album by the Norwegian hard rock band TNT, released on 15 December 2010 in Japan. The album is in stark contrast to the previous two TNT albums, being a very 1980s-melodic rock-oriented album.[citation needed] The album is titled Engine in the US and Scandinavia.