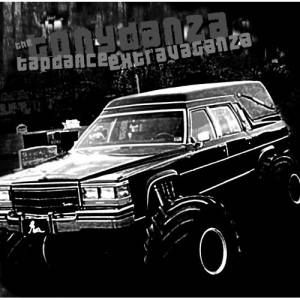 The Tony Danza Tapdance Extravaganza - The Tony Danza Tapdance Extravaganza
Год :2005
Страна :USA
Стиль :Extreme metal, grindcore, djent
MySpace
Facebook
Tracklist :
1. My Bowling Ball's Frozen In a Footlocker In Chicago
2. I Bet Heaven Looks Alot Like Talledega
3. God Ain't Got No Use For No 180 Lb. Bag of Sugar
4. 5 Deep On Charlie
5. Cliff Burton Surprise
6. Bringin' It Straight From Alabama
7. Bill Dance Lands the Big One
8. Daddy's Coming Up
9. Tony Little, Jack Daniels and the Open Road
10. Big Puns Not Dead Because I Just Saw Him at Krispy Kreme
Цитата
В общем, The Tony Danza Tap Dance Extravaganza – отличнейший, просто-таки один из лучших маткор-коллективов современности, который числится на лейбле Blackmarket Activities. Их последний альбом - один из лучших метал релизов этого года: их звук настолько мощный, ломанный и объемный, что уносит мгновенно. Их лирика и прикид стебут коренное население, где появился Ку Клукс Клан и где южная гордость встречается с типично реднековым уебанством и грязными портками. ..

Состав:
Jessie - Vocals
Layne - Guitar
Butler - Bass
Josh - Drums

The Tony Danza Tapdance Extravaganza is an American extreme metal band, from Murfreesboro, Tennessee. Founded in 2004, the group derived their name (as a joke) from celebrity Tony Danza, upon one of his professions being tapdancing. The band has released three studio albums and are currently signed to Black Market Activities. read more..