Discography
_________________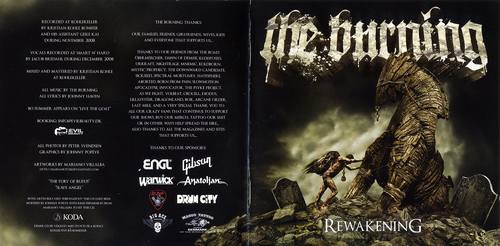 THE BURNING - Rewakening
Год :2009
Страна : Denmark (Aarhus)
Стиль : Death /Thrash Metal
Tracklist :
01. (03:02) It Came From The North
02. (03:20) Cloven Hoof
03. (03:26) Carnivora
04. (04:53) Eight Legged Omen
05. (03:08) Repentance
06. (04:15) Father They Call Me The Heretic
07. (04:43) He Who Whispers In The Back Of Us All
08. (04:07) Evangelical Cannibal
09. (04:02) Unspeakable
10. (04:09) Live The Goat
11. (04:36) Rewakening
12. (03:26) My Apostacy
Johnny Haven - Vocals
Alexander Kjeldsen - Guitars (Afskum, Dawn of Demise)
Thue Møller - Bass
Tobias Høst - Drums
Цитата
The Burning are the proud winners of the "BEST LIVE BAND 08" at DmeA.
"Rewakening" is direct, roots-oriented and full of energy. Their music is aggressive, but melodies have their place too in "only" their 2nd album composed of 12 great tracks.
Every song has been carefully & cleverly composed, avoiding both current "trends" and boring clichés. The music & the singing are a great combination of the very best Thrash & Death have on offer. No wonder, then that The Burning toured last years along with their well known patriots from Illdisposed in the Danish Dynamite Tour.
"Rewakening" shows that The Burning belong to the musical elite of the Trash/Death scene.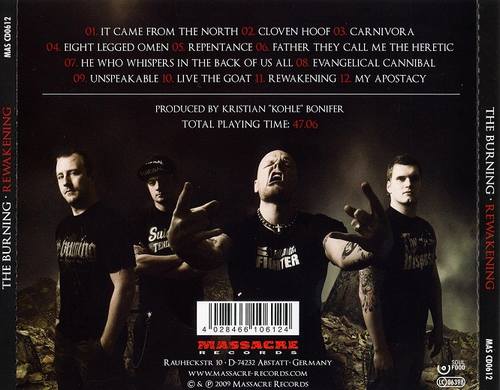 Lossless
Доступно только для пользователей